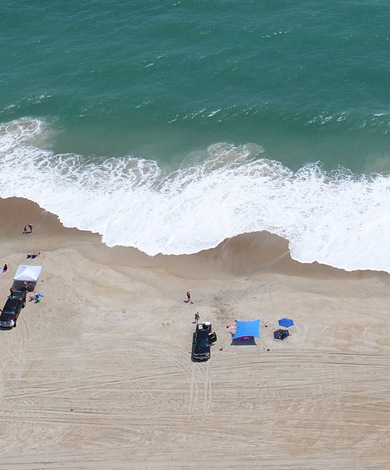 Hatteras Island Beach Gear for Rent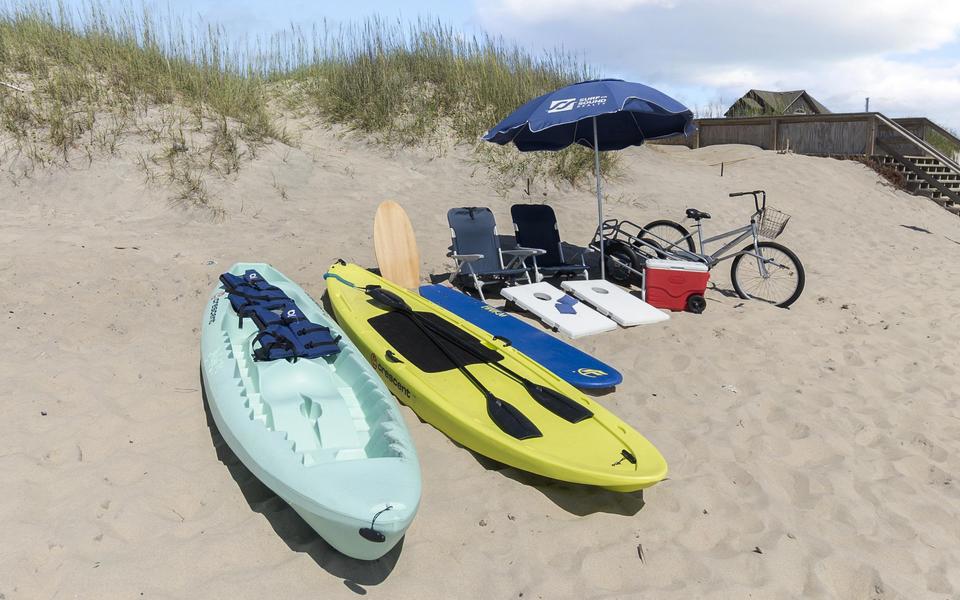 Save space in the car by renting beach gear that will be delivered straight to your vacation rental home on your arrival day! Surf or Sound Realty proudly partners with VayK Gear, an adventure-based company serving the Outer Banks. Available rentals include beach gear, bicycles, beach chairs, umbrellas, various water sports equipment, and much more! 
Reserve your items today and on check-in day, VayK Gear will deliver them straight to your Hatteras Island vacation rental. Once your reservation is confirmed, click to reserve your Hatteras Island beach gear.
For questions or issues with VayK Gear, contact them directly at 888-577-7412 or support@vaykgear.com.
Featured Homes Offering VayK Gear
Frequently Asked Questions
Which homes offer $250 of free beach gear with their stay?
What if I don't stay in a home offering $250 of beach gear for free?
Surf or Sound Realty offers guests staying in any of our other vacation rentals the option of renting beach gear at a 45% discount. For example, if you rent $250 worth of beach gear, you only pay $140. That is $110 in savings! This offer is available for 2023 vacations arriving between March 20, 2023, and September 2, 2023.
What if I want to order more than $250 of beach gear?
You can order all the gear you want! This includes everything you need for a beach day including kayaks, bicycles, umbrellas, beach chairs, coolers, cornhole boards, and more; just select the items you want. If the total comes to more than $250, you simply pay the difference.
What if I'm just staying a few days (less than a full week)?
At this time, the $250 credit only applies to full-week stays.
Does Surf or Sound Realty rent beach gear now?
Creating an amazing experience for our guests is our priority. With that in mind, we partnered with VayK Gear to bring you this premier service.
What kind of gear can I order?
From bikes, umbrellas, beach chairs and other beach equipment to water sports items and much more, VayK Gear has plenty of items to choose from to make your stay on Hatteras Island unforgettable!
How do I order my gear?
Once you confirm your reservation, click the link at the top of this page. Then enter your reservation number, and you can select your beach gear items! We will also send an email to the leaseholder informing them of the special offer.
Do I have to select my gear right after I book my vacation rental home?
Don't worry, you have time to think about what items you want! You can order items to make your vacation memorable up until 48 hours prior to your arrival date. If you are within 48-hours of your arrival date, you can still order items; however, VayK Gear does not guarantee the availability of the items or that they will arrive the same day you do.
Does VayK Gear deliver right to my vacation rental home?
Yes! VayK Gear will deliver your beach gear on your arrival day. When you pack up to go back home, just leave the gear where you found it, and they will pick it up too!
May I pick up my beach gear?
For your convenience, VayK Gear delivers everything directly to your vacation rental home. They even pick it up after you check out!
What if I need to change my beach gear selections?
No problem! You can make changes up to 24 hours after your arrival. Any changes made after this period incur a $50 late fee, and delivery will be made on the next scheduled delivery day. These last-minute changes are also subject to availability.
What happens if I don't use all of the $250 credit?
This credit is good for this vacation only and expires 24 hours after you arrive. Make sure you use all of your credit so your beach days are as memorable as they can be.
Is a deposit required for beach gear?
There is no deposit required for beach gear. VayK Gear keeps a credit card on file for any damaged or lost gear.
Who should I call if I have questions about VayK Gear?